Intelligent Neck Massager
$59.99
$69.99
You save : $10.00 (14%)
Feeling tense in the neck? You need to relax
Experience much-needed relief -- now anytime you want -- without needing a significant other or a professional to help. Say hello to comforting kneading and rolling on-demand with the Intelligent Neck Massager. Designed for anyone who needs to loosen up stiff neck muscles from the toll of demanding gardening work, hours of heads-down phone usage, or hours of grueling typing on a computer.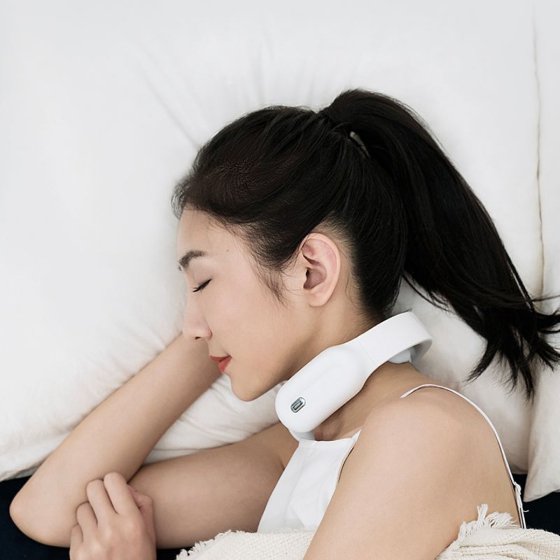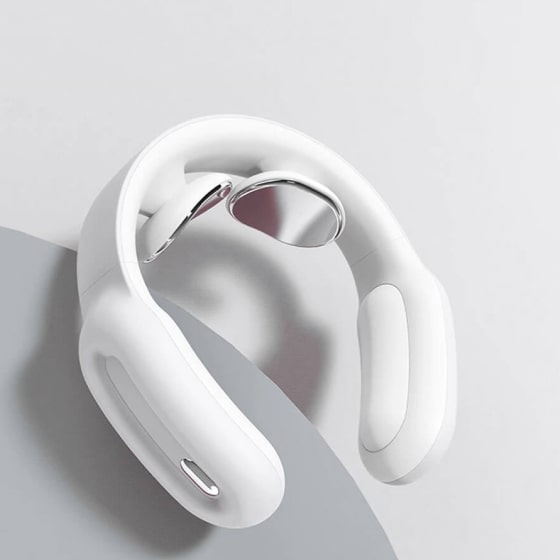 Stress-bust your way
Three modes. 15 strength settings.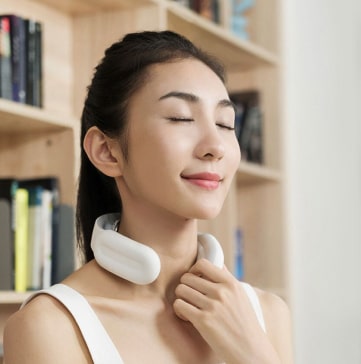 Soothing Mode
Great for neck injuries or a stiff neck.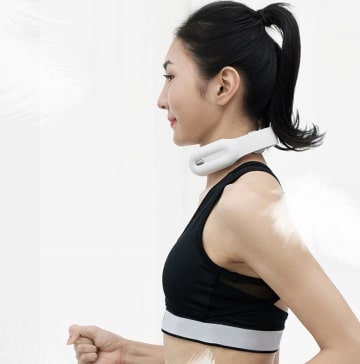 Vitality Mode
Suitable for cervical strains.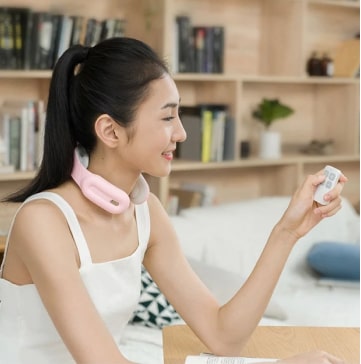 Automatic Mode
Relax with a combined technique for daily relief.
High design meets high performance
Our device's massage nodes are built from 304-stainless steel that feature 360-floating suspension for a flexible yet focused massage. The massager is designed with an ergonomic U-shape design (almost like headphones) and features soft silicone interior balloon padding for softness and support. Experience a sturdy massage gadget that won't shift or move like traditional devices that lack ergonomic detailing.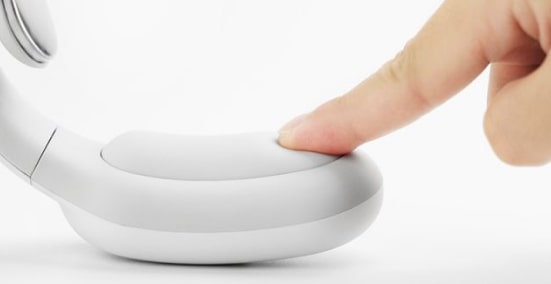 Built-in heat therapy
Extend your relief for sore and tired muscles with a heat function that warms up to 120°F in just three seconds. It's like having a hot towel around your neck to boost blood circulation.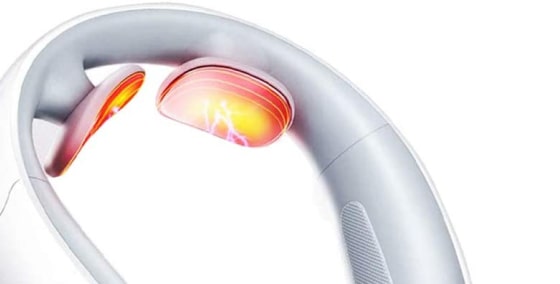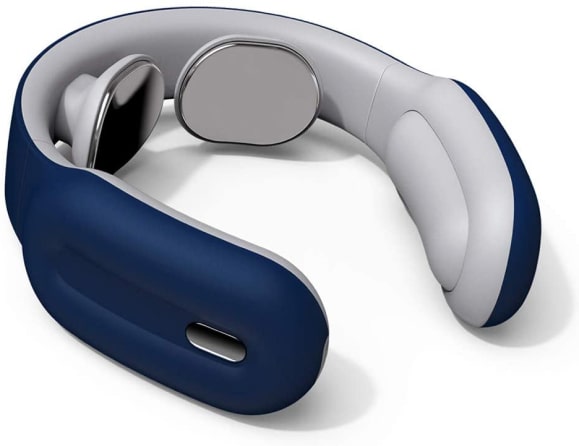 The pulse comes to life
The Intelligent Neck Massager uses low-frequency TENS pulse technology to simulate three massage settings. The device's stainless-steel nodes deliver targeted relief not found on other ball-utilizing neck massagers.
15 minutes a day
That's all it takes per session to feel lighter and less stiff in the neck. Relax on your mid-day break or lunch time for some convenient destressing.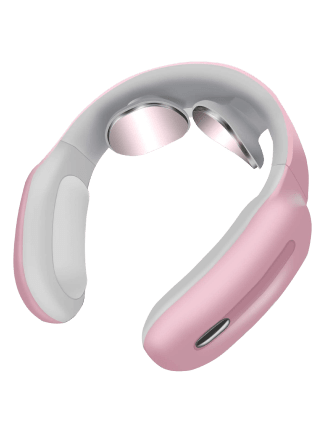 Relief in one click
Our massager features a one-click power-up operation on the headset for instant relief and relaxation wherever (and whenever) you need it. An included controller helps you switch between modes and settings.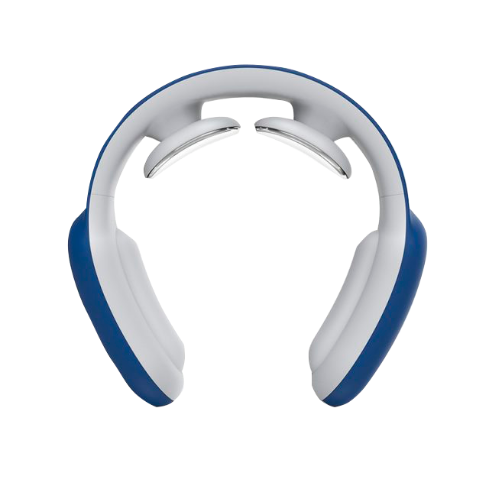 Charge via USB
A built-in 450 mAh battery fully charges in two hours for up to 30 days' worth of daily 15-minutes sessions. An included USB charging cord allows you to power up your device with anything, from a wall outlet charger to a portable battery bank (or even your laptop). It's convenient and easy.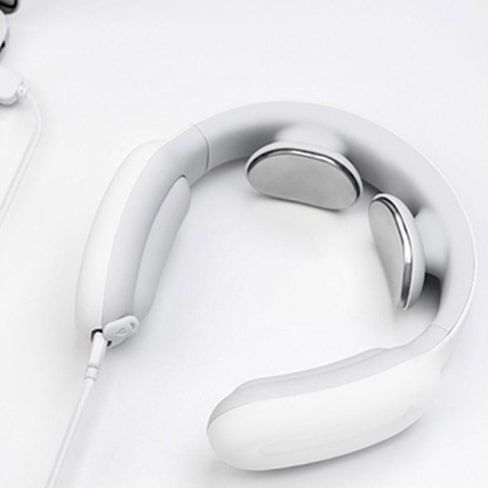 Peace of mind
Relax with complete ease. Our Intelligent Neck Massager measures 5.9 x 5.9 inches so you won't feel uncomfortable wearing it. It is designed with leak-proof technology so you won't burn with its heat setting, while an auto-shut off turns the device off immediately after a treatment interval is complete.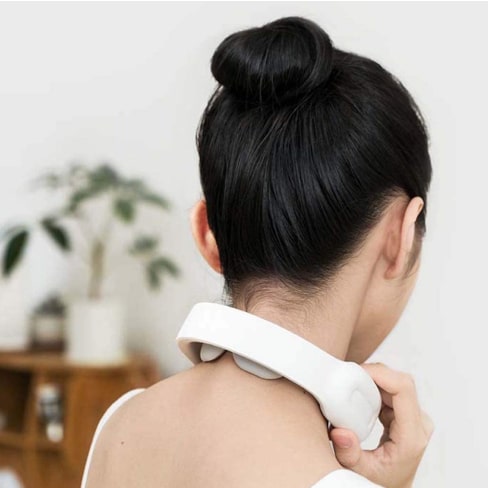 Caution to users
Everyone deserves massage relief, but this device isn't for everyone. It uses electrical-impulse therapy, which is not suitable for women who are pregnant, anyone in current use of a medical device, pacemaker, or individuals who have metal implants in their body. Please consult with a medical professional or doctor if you are unsure as to the safety or compatibility of this device with your current health conditions.
FREE SHIPPING POLICY
Shipping on Continental USA orders of $75 or more is FREE via the lowest cost option available at our discretion. If you care more about helping the animals than getting free shipping, just choose a paid option at checkout. We sure appreciate that! Expedited shipping is also available if you need something in a hurry. You can choose your selection at checkout and we'll honor what you select.
If there are ANY delays in getting your item shipped within 48 hours, we will let you know. If you need something in a hurry, please contact us to make sure we have it in stock. We are a small business, we do not keep a lot of stock on hand of most items. If someone buys 3 or 4 of an item, that will likely wipe out our inventory, if you happen to order at a time like that, it may take 1-2 weeks for us to get the item back in stock.
International orders are welcome for small items. We will gladly cover the cost of the shipping for orders over $100, except for heavy items. Sometimes we can have products shipped directly from the manufacturer at a lower cost than we can ship from the USA. We'll let you know where to expect your package from.
Heavy and bulky items may require additional shipping costs.
Canadian Friends, FREE Shipping for YOU on Orders Over $100! – Please Note:
Import duties, taxes, and charges are not included in the item price or shipping cost. These charges are the buyer's responsibility.
Please check with your country's customs office to determine what these additional costs will be prior to buying.
Again, if helping the animals means more to you than free shipping, please choose a paid option at checkout to help us with the expense. ALL proceeds help the rescued animals at Rooterville Animal Sanctuary, so every dollar matters to us.
If you have questions about the shipping policies, please contact us at info@thepinkpigs.com. We will do whatever we can to make you happy as long as we don't lose money doing so. Thank you for your understanding!
Your payment information is processed securely. We do not store credit card details nor have access to your credit card information.