Your house and your pet will always be safe
Does your lovely pet have long nails? Does it scratch you and destroy your furniture? Does it suffer because of long nails? No matter what the problem is, this nail clipper will take good care of your pet's paws.
Your pet deserves the very best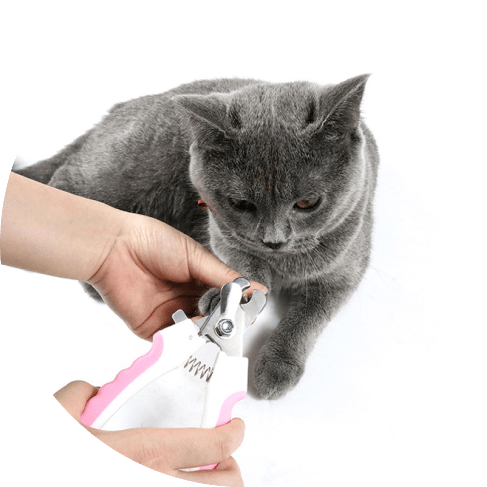 This clipper is safe
Don't worry about hurting your furbaby! A barrier prevents cutting off too much of a nail and сausing pain to the pet. A lock button prevents any accidents. Non-slip handles will give you a firm hold.
The nail file is included
Clipping may not be enough, that's when the file comes to help. Add finishing touches to the nails, get rid of any bumps or unevenness. The nail comes in the package with the clipper, you're all set!
But first, nails
With this nail clipper, you no longer need to spend plenty of money on pet salons to get your pet's nails taken care of. A safe, affordable, and simple to use nail clipper will be a perfect solution to all the problems. You and your family won't get scratched, your furniture will stay brand new, and your pet will continue enjoying its life. It's easy to not only use, but to take it anywhere or hide it from your kids, thanks to the size of 5.51x1.96x0.39 inches, and 2.82 oz of weight. A must-have for any pet owner.
FREE SHIPPING POLICY
Shipping on Continental USA orders of $75 or more is FREE via the lowest cost option available at our discretion. If you care more about helping the animals than getting free shipping, just choose a paid option at checkout. We sure appreciate that! Expedited shipping is also available if you need something in a hurry. You can choose your selection at checkout and we'll honor what you select.
If there are ANY delays in getting your item shipped within 48 hours, we will let you know. If you need something in a hurry, please contact us to make sure we have it in stock. We are a small business, we do not keep a lot of stock on hand of most items. If someone buys 3 or 4 of an item, that will likely wipe out our inventory, if you happen to order at a time like that, it may take 1-2 weeks for us to get the item back in stock.
International orders are welcome for small items. We will gladly cover the cost of the shipping for orders over $100, except for heavy items. Sometimes we can have products shipped directly from the manufacturer at a lower cost than we can ship from the USA. We'll let you know where to expect your package from.
Heavy and bulky items may require additional shipping costs.
Canadian Friends, FREE Shipping for YOU on Orders Over $100! – Please Note:
Import duties, taxes, and charges are not included in the item price or shipping cost. These charges are the buyer's responsibility.
Please check with your country's customs office to determine what these additional costs will be prior to buying.
Again, if helping the animals means more to you than free shipping, please choose a paid option at checkout to help us with the expense. ALL proceeds help the rescued animals at Rooterville Animal Sanctuary, so every dollar matters to us.
If you have questions about the shipping policies, please contact us at info@thepinkpigs.com. We will do whatever we can to make you happy as long as we don't lose money doing so. Thank you for your understanding!
Your payment information is processed securely. We do not store credit card details nor have access to your credit card information.