Wood and Rope Chewing Toy For Pet Birds and Parrots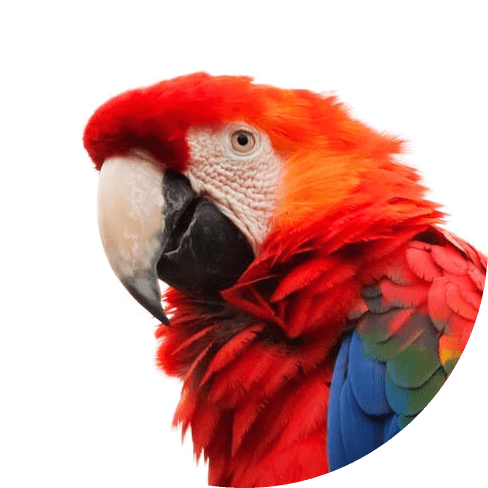 Busyness for your birdie
 Birds are active and very tactile creatures. They need to explore the world around them.  Help keep them busy with something they like and follow their instincts. Toys like this one are perfect to keep birds happy, engaged and busy.
Redirect their energy flow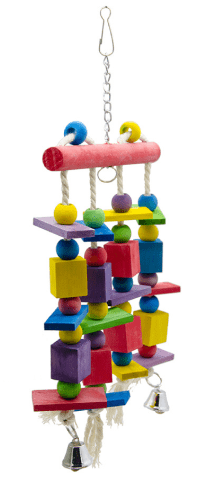 Occupy and intrigue your bird
It's colorful - the parrot will want to explore it. The bird will be less lonely and aggressive because it has a way of redirecting its energy. The variety of shapes and textures is irresistible!  Bells make it even more interesting
Perfect size and materials
The toy is not cumbersome, yet not too small: 3.93x7.87x3.93 inches. Because it's made from wood, birds really feel like they're out in the wild. No plastic is used in the production of the toy!
The perfect gift for a flying friend
Just like small kids, birds love playing and checking out the world around them. But the thing is that birds are always like that. They need attention and something they can focus on, otherwise, the owners won't like the outcome. Keep your house safe and sound while keeping your parrot busy with this amazing toy. It entertains and challenges, and wooden parts make the parrot feel like it's in the wild.
FREE SHIPPING POLICY
Shipping on Continental USA orders of $75 or more is FREE via the lowest cost option available at our discretion. If you care more about helping the animals than getting free shipping, just choose a paid option at checkout. We sure appreciate that! Expedited shipping is also available if you need something in a hurry. You can choose your selection at checkout and we'll honor what you select.
If there are ANY delays in getting your item shipped within 48 hours, we will let you know. If you need something in a hurry, please contact us to make sure we have it in stock. We are a small business, we do not keep a lot of stock on hand of most items. If someone buys 3 or 4 of an item, that will likely wipe out our inventory, if you happen to order at a time like that, it may take 1-2 weeks for us to get the item back in stock.
International orders are welcome for small items. We will gladly cover the cost of the shipping for orders over $100, except for heavy items. Sometimes we can have products shipped directly from the manufacturer at a lower cost than we can ship from the USA. We'll let you know where to expect your package from.
Heavy and bulky items may require additional shipping costs.
Canadian Friends, FREE Shipping for YOU on Orders Over $100! – Please Note:
Import duties, taxes, and charges are not included in the item price or shipping cost. These charges are the buyer's responsibility.
Please check with your country's customs office to determine what these additional costs will be prior to buying.
Again, if helping the animals means more to you than free shipping, please choose a paid option at checkout to help us with the expense. ALL proceeds help the rescued animals at Rooterville Animal Sanctuary, so every dollar matters to us.
If you have questions about the shipping policies, please contact us at info@thepinkpigs.com. We will do whatever we can to make you happy as long as we don't lose money doing so. Thank you for your understanding!
Your payment information is processed securely. We do not store credit card details nor have access to your credit card information.