Zoom the image with mouse
Smokeless Indoor Electric BBQ Grill
The outdoor feast inside
Who doesn't love the scent and taste of a great BBQ? Smoky steaks and hot dog franks, grilled corn and bell peppers...mm mmm! Although great for the warmer spring and summer months, BBQ-ing can be hard to do outside in the colder months when fall and winter come around. Our Smokeless Indoor Electric BBQ Grill allows you to continue that grilling tradition -- all without the smoke.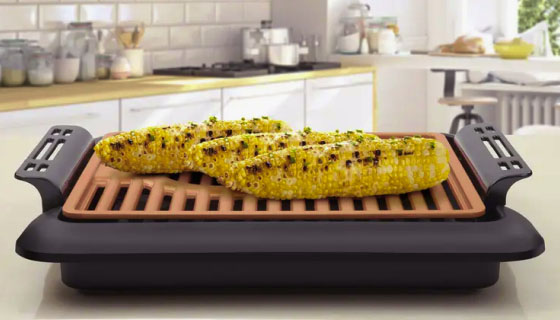 Control at your hands
The grill is at your command, thanks to a user-friendly temperature dial control with four heat/cooking settings – warm, low, medium, and high heat. The dial lets you adjust in a flash as you cook various meats and vegetables.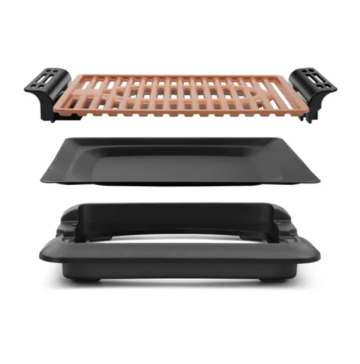 Cool-touch handles and frame
Easier to move and shift, with a heat-proof frame so you won't burn your hands.
Premium, high-performance grill
Made of Gotham™ steel and removes easily for cleaning.
Burn-proof base and pan
Collect grease and oil in the grease-catcher pan, housed on a sturdy base.
Smoke-less technology for a cleaner home
Get all the grill, with nearly zero smoke. Our grill features a built-in fan that virtually eliminates any smoke. No smoke alarms going off, no open windows required. Do note though that some fatty foods may naturally produce more smoke.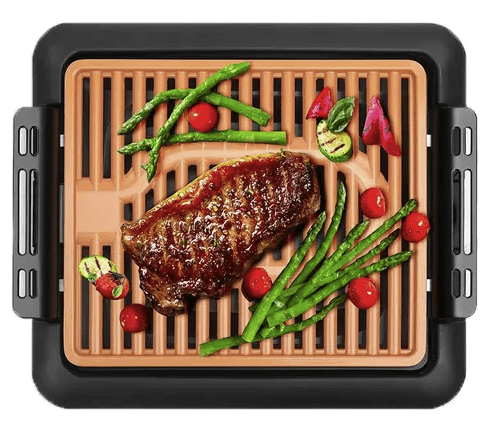 With a 12 x 10in grill plate, there's plenty of room to grill. When fully assembled, the grill measures 16.2 x 14.0in.
The grill, handles, drip tray, burn base, and temperature dial control all disassemble effortlessly for quick storage and fuss-free cleaning. Caution to not put the dial control into any water.
FREE SHIPPING POLICY
Shipping on Continental USA orders of $75 or more is FREE via the lowest cost option available at our discretion. If you care more about helping the animals than getting free shipping, just choose a paid option at checkout. We sure appreciate that! Expedited shipping is also available if you need something in a hurry. You can choose your selection at checkout and we'll honor what you select.
If there are ANY delays in getting your item shipped within 48 hours, we will let you know. If you need something in a hurry, please contact us to make sure we have it in stock. We are a small business, we do not keep a lot of stock on hand of most items. If someone buys 3 or 4 of an item, that will likely wipe out our inventory, if you happen to order at a time like that, it may take 1-2 weeks for us to get the item back in stock.
International orders are welcome for small items. We will gladly cover the cost of the shipping for orders over $100, except for heavy items. Sometimes we can have products shipped directly from the manufacturer at a lower cost than we can ship from the USA. We'll let you know where to expect your package from.
Heavy and bulky items may require additional shipping costs.
Canadian Friends, FREE Shipping for YOU on Orders Over $100! – Please Note:
Import duties, taxes, and charges are not included in the item price or shipping cost. These charges are the buyer's responsibility.
Please check with your country's customs office to determine what these additional costs will be prior to buying.
Again, if helping the animals means more to you than free shipping, please choose a paid option at checkout to help us with the expense. ALL proceeds help the rescued animals at Rooterville Animal Sanctuary, so every dollar matters to us.
If you have questions about the shipping policies, please contact us at info@thepinkpigs.com. We will do whatever we can to make you happy as long as we don't lose money doing so. Thank you for your understanding!
Your payment information is processed securely. We do not store credit card details nor have access to your credit card information.