Zoom the image with mouse
African Handmade Candles Blue Orange- Gift box of 2, 3 or 4 Short - Durra Design - Nobunto *
Handmade Candles from Africa that help local artisans keep their families from poverty.  Your choice!  Gift boxed set of 3 tall dinner candles or pair.  Durra Design, beautiful blue/orange hand-poured and hand-painted by South African artisans. Each candle is 9 inches tall by 0.75 inches in diameter.
All proceeds help our animal sanctuary, so you are supporting people and animals around the world with your purchase!
These globally-inspired hand-painted candles are small works of art. Crafted by artisans in South Africa, each candle is hand-poured and then individually hand-painted. Each design name is derived from a special African word that is brought to life through the color and patterns which reflect the culture and influences of South Africa. The style images pictured illustrate the general design, but note that each candle is one of a kind.  A truly unique and beautiful gift for hostesses, housewarming, wedding, anniversary, and more that make a striking addition to every home and a beautiful conversation piece!
Product Features:
Design Meaning: "Durra" represents a beautiful flowering tall African grass, with slender stalks that reach towards the blue sky.
Set of 2 Gift-packaged Dinner Tapers.
Candles measure approximately 9-inches tall. OR
Set of 3 Boxed Dinner Tapers.
Candles measure approximately 9-inches tall. OR
Set of 4 Short Tapers, ideal for Friday Night Shabbat Dinner.
Candles measure approximately 4-inches tall.
Unscented, high-quality, fully-refined paraffin wax from Germany.
Non-toxic color pigments and natural wicks.
Individually hand-painted. Designs will have differences, but will be consistent in colors and icons that reflect the style.
Creates a calm ambiance that transforms any space into a personal sanctuary.
Burn time averages 10 hours. 
High melting point of  58°- 60°.
Box made from recycled materials.
Use care when burning candles. Do not leave a burning candle unattended; snuff out flame when done burning; do not move burning candle; always use a candle holder when burning. 
Meet the Artisans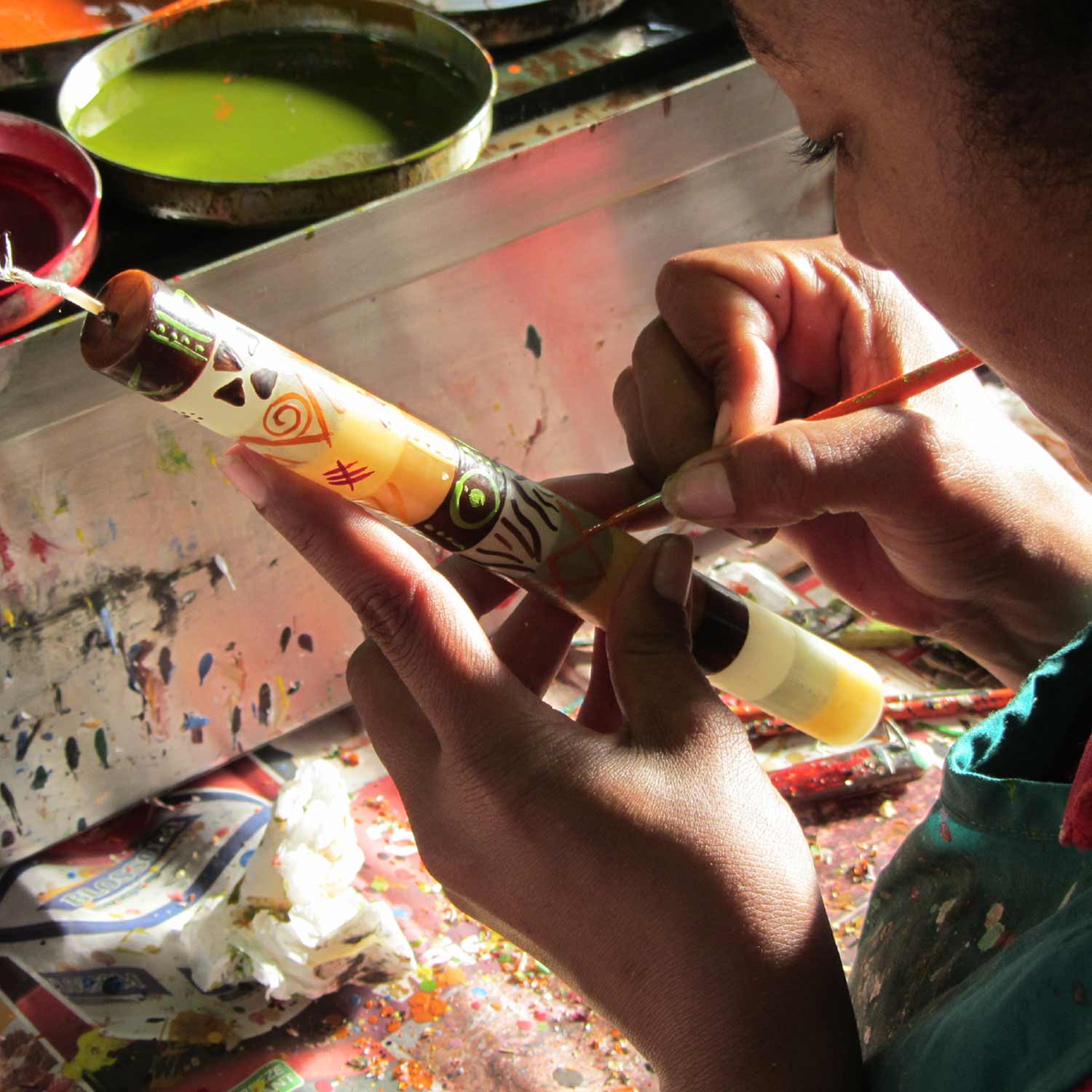 NOBUNTO is a South African Fair Trade company that creates high quality hand-painted candles, ceramics and handcrafted greeting cards with the utmost attention to detail using mainly African inspired designs. Their mission is, in a region with high unemployment, to alleviate poverty, not only through development of industry but to be socially, ethically, and sustainably responsible.
Based in the small village Napier, about 180 km east of Cape Town, NOBUNTO has provided employment to mostly woman of the disadvantaged community and guarantees an income for over 18 families. The unemployment rate in the area is in the region of 50%. The word NOBUNTO comes from the Sotho language, meaning "For the people".
FREE SHIPPING POLICY
Shipping on Continental USA orders of $75 or more is FREE via the lowest cost option available at our discretion. If you care more about helping the animals than getting free shipping, just choose a paid option at checkout. We sure appreciate that! Expedited shipping is also available if you need something in a hurry. You can choose your selection at checkout and we'll honor what you select.
If there are ANY delays in getting your item shipped within 48 hours, we will let you know. If you need something in a hurry, please contact us to make sure we have it in stock. We are a small business, we do not keep a lot of stock on hand of most items. If someone buys 3 or 4 of an item, that will likely wipe out our inventory, if you happen to order at a time like that, it may take 1-2 weeks for us to get the item back in stock.
International orders are welcome for small items. We will gladly cover the cost of the shipping for orders over $100, except for heavy items. Sometimes we can have products shipped directly from the manufacturer at a lower cost than we can ship from the USA. We'll let you know where to expect your package from.
Heavy and bulky items may require additional shipping costs.
Canadian Friends, FREE Shipping for YOU on Orders Over $100! – Please Note:
Import duties, taxes, and charges are not included in the item price or shipping cost. These charges are the buyer's responsibility.
Please check with your country's customs office to determine what these additional costs will be prior to buying.
Again, if helping the animals means more to you than free shipping, please choose a paid option at checkout to help us with the expense. ALL proceeds help the rescued animals at Rooterville Animal Sanctuary, so every dollar matters to us.
If you have questions about the shipping policies, please contact us at info@thepinkpigs.com. We will do whatever we can to make you happy as long as we don't lose money doing so. Thank you for your understanding!
Your payment information is processed securely. We do not store credit card details nor have access to your credit card information.